Cégünk, az Express-teher Kft. and web pages the www.express-teher.hu, az www.irodakoltoztetes.hu 1998. year founded MIGRATION BUSINESS (moving, irodaköltöztetés, shipping) a megnövekedett igények kiszolgálására. Moving company we first set the objective of the reliability, the accuracy and the european standard delivery. Kiemelt figyelmet fordítunk munkatársaink képzésére, a jó megjelenésre és a pontos munkavégzésre.
Our motto is: fast, points, damage-free shipping!
KÖLTÖZTETÉS – Office move – SHIPPING
Tevékenységünket folyamatosan bővítjük. Our business in the EU – Standards in accordance with the new and young car park working. Move 3,5 – 7,5 t, zárt dobozos, emelő hátfalas, trucks were lined, and well-knit team we'll our clients ' disposal. Moving company thanks to a constant and recurring customers feet and we are proud, hogy ezeket az ügyfeleket sikeresen meg is tartjuk. You can request a quote online form with the help, or visit of our friend and colleague the page we have contact details of one of (phone, fax, e-mail or even facebook on).
Migrate throughout Budapest 3,5 tonnás össztömeg felett behajtási engedéllyel rendelkezünk.
Moving trucks árubiztosítással (Allianz Biztosító) have.
The insurance value of 3.000.000. £, if költöztetéskor the transported goods of a value exceeding the insurance value of the option is one-time insurance.
Költöztetéskor we packaged and delivered furniture, értéktárgyakra full warranty.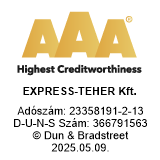 OFFICE REMOVALS – APARTMENT REMOVALS – EXPRESS DELIVERY TRUCK
www.express-teher.hu
KÖLTÖZTETÉS – FULL WARRANTY WITH


EXPRESS-LOAD-DRUMMER
READERS ADVICE – TIPS AND TRICKS
"I packed, to kb. the same boxes I got. that, what permanently stores the IKEA boxes proved to be the best. I had plenty of time, so methodically I went. Qualifier I, and I just did in the box, what's left. I bought a small notebook, and that I wrote, I packed. Every box numbered I, and the notebook I wrote, what is included. (...)Important, to the box on all sides and the top to be the number, because if you have several boxes stacked on each other, and the wall is placed on the candidate page, yeah it's hard to find. The clothes big size black kukazsákba I did. It's strong and isn't see-through. Self-adhesive label paper taped to it, that's how they got the number. Now this method I use the not used stuff store. P. I"
Move with, SZÁLLÍTÁSSAL KAPCSOLATOS SZOLGÁLTATÁSAINK